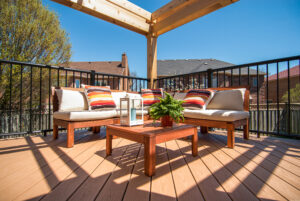 With a longer lifespan, picket aluminum railing systems are far superior compared to wood, steel or wrought iron rail bracets –  making them a staple for many deck projects. Century's component picket railings were designed with the homeowner, pro contractor and commercial developer in mind who are endeavoring to source a high quality and virtually maintenance free railing system. This easy to install railing system will give your deck a contemporary look and allow you to enjoy your deck or get on to the next job site quicker.
4 Key Benefits of our Aluminum Component Picket Railings 
Easy to Install

This style of railing is easy to install and doesn't require a lot of time. Both contractors and homeowners love the simplicity of picket railings. 
Pre-packaged Quick-snap components along with pre-welded post brackets saves you those extra steps during the installation process.

Various Options 

There are different sizing and color options to select from giving the homeowner the ability to make decisions about aesthetics. 

Low Maintenance  

Aluminum picket railings are ultra-low maintenance after installation. Once they are installed you are good to go. You may want to rinse or wipe them down seasonally depending on the color you select. 

Durable, Strong, and Secure 

The durable premium powder coated finish protects railings against environmental elements making the product long-lasting. Aluminum picket railings are strong and can withstand high winds while allowing space to have a security barrier. 
Century Picket Railing System has a variety of essential components that contain a premium powder-coated finish that produces a rust free and highly durable railing system. This includes Posts, Top and Bottom Rails (TBR's), Pickets, and Accessories.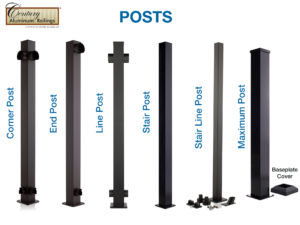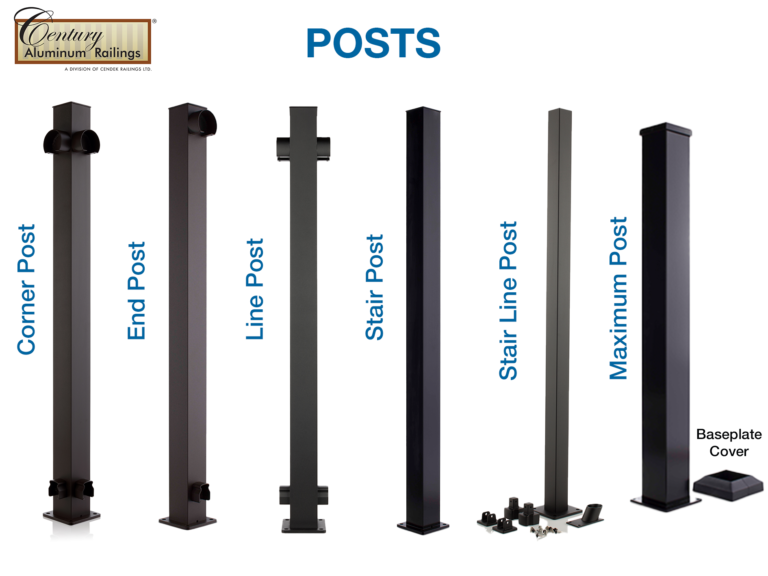 Posts are the starting point to building a solid railing foundation on your deck. There are five different types of posts: Corner Post, End Post, Line Post, Stair Post, and Maximum Post. The main feature of Century Posts is that there are no exposed or visible welds. A Post Transition Bracket is pre-installed on End, Line, and Corner Posts but can be bought separately to transition from Scenic to Century Top and Bottom Rail systems or to create a double top rail look. Give your railing a consistent look that protects with effortless Baseplate Covers that snap together at the bottom of your posts. 
The Top and Bottom Rail Kit and its accessories emphasize the simplicity of this system with its core features.


TBR's have a continuous pre-punched bottom rail eliminating bottom spacers. Support leg(s) are included, and a top rail characterized by its contemporary round top design that makes it easily graspable, especially on stairs. Heavy-duty construction to hide welds and cuts add a top-of-the-line aesthetic to this product. The Top and Bottom Wall Bracket Kit (sold separately) can be used to attach TBR's to existing wood posts or walls by placing the wall brackets on each end of the top and bottom rails first then attaching it to the wall or existing post(s). Whether you're installing straight deck pickets, stair rail pickets, or gates, Century is devised to accommodate and create a system that reduces installation times while maintaining a sleek finish to your deck. See below for components and accessories.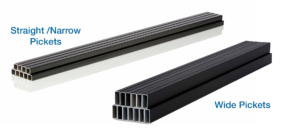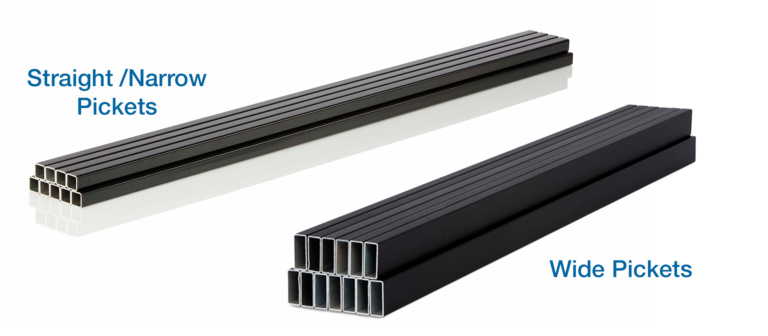 Century Pickets have radius milled edges for a smooth touch and fits completely into the TBR channels. Picket Packs are offered in 4' and 6′ package of 5/8″ Narrow or 1 ½" Wide Pickets – available for a 36″ & 42" high railing. See below for components and accessories images.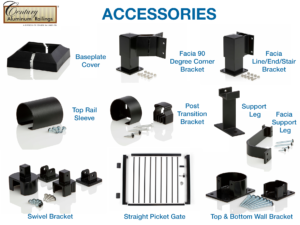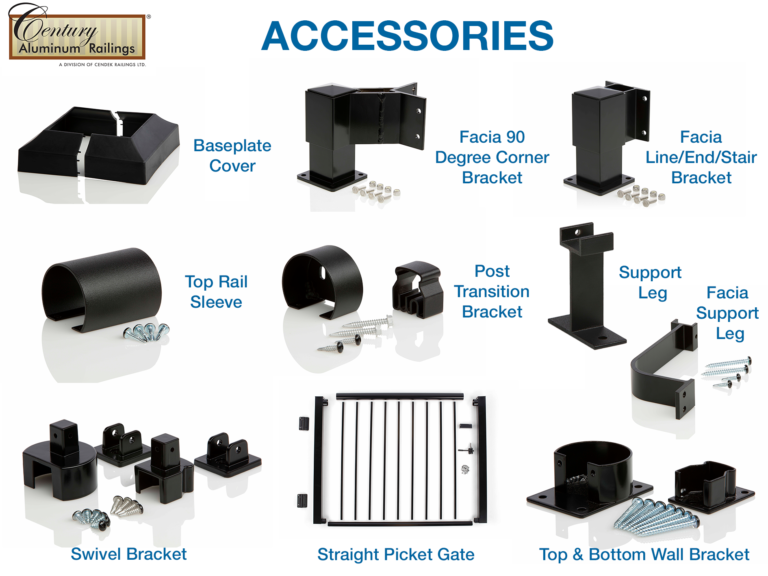 Additional Key Features of the Picket Railing System
Contractor Approved
Building code compliant
ADA-Compliant
Powder Coated Tough
Retail Ready
1-2-3 easy step installation system (see video below)