Beginning a new do-it-yourself build can be overwhelming, especially a larger project that needs to be safe and functional. If you are taking initiative to build your deck, it doesn't need to be a daunting task. We suggest breaking it down into a step-by-step process, beginning with selecting your materials. Although choosing a railing material may seem simple, hardware stores carry a wide variety of products that can make it difficult to choose. It is essential to choose a railing material that ensures the comfort and safety of your deck. Consider what features are important to you. Whether your prioritize durability, maintenance, appearance, or cost, there's a lot of features to consider before you buy.
To make your life easier, we've created a guide to help you choose the best railing material to suit your needs. Here are the benefits and drawbacks of each type of railings.
Steel Railings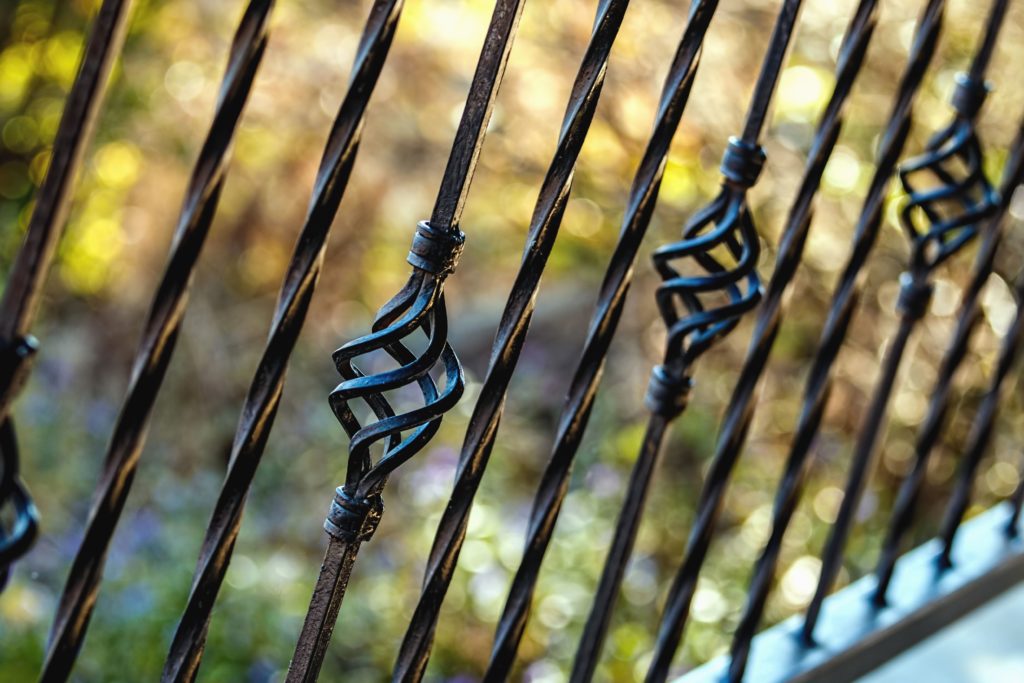 | | |
| --- | --- |
| Features | Steel Deck Railing |
| Strong & Durable | ✓ |
| Colour Selection | ✓ |
| Easy Installation | X |
Steel is a heavy-duty metal to choose for your railing project. Because of its superior strength, steel railings are a durable choice, however, they still have several drawbacks to consider. Steel is quite heavy which makes installation difficult. A heavier weight means that you need to be extra mindful of safety throughout installation and be prepared for a little workout when lifting. Another disadvantage of steel railings is that they lack versatility. Steel railings are not easily modified to fit your deck shape. On-site modification can be troublesome as cutting steel may require special tools. Considering these factors, we do not recommend steel railings for beginner deck builders.
Wood Railings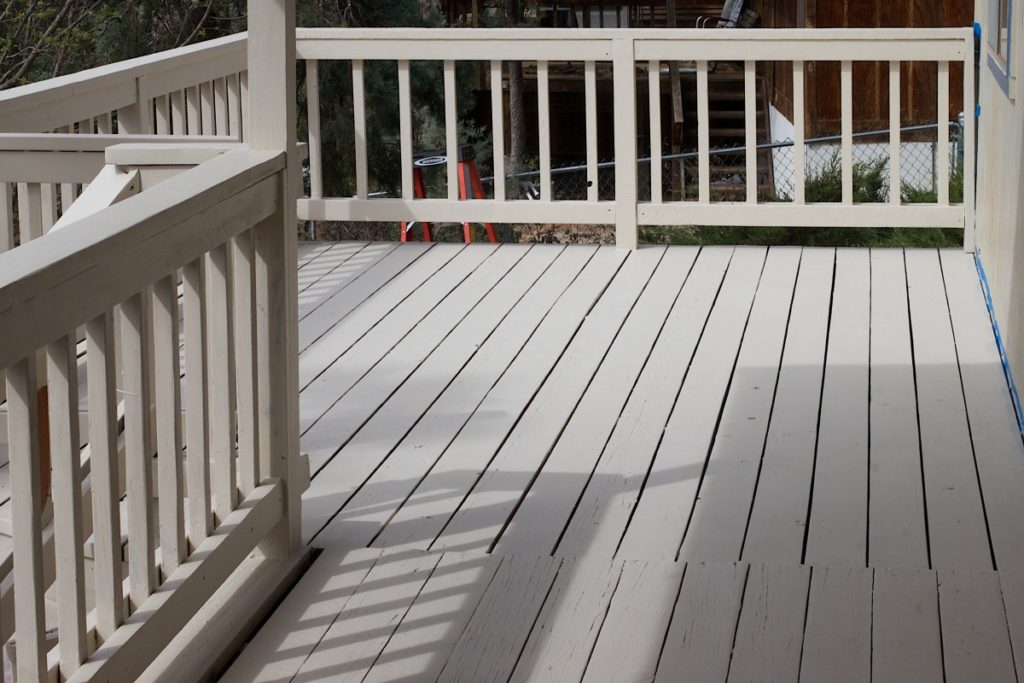 | | |
| --- | --- |
| Features | Wood Deck Railing |
| Strong & Durable | ✓ |
| Colour Selection | ✓ |
| Weather-resistant | X |
| Low Maintenance | X |
Wood Railings are a classic rustic look, but maintenance can be time consuming. When exposed to various weather conditions, wood is prone to wear. Higher maintenance is required to keep your wooden railings looking fresh. Regular upkeep with sanding, staining, or painting may be necessary to keep your railings from looking worn. One benefit of regular maintenance is that you have a wide selection of colours and wood stains to choose for you railings. Before purchasing wood railings, consider whether they are suited for your weather conditions. Unfortunately, wood decks and wood railings are not ideal for humid and wet climates, as moisture can lead to mould and rot. If you are concerned about maintenance and weather resistance, we recommend considering a different railing material.
---
Vinyl Railings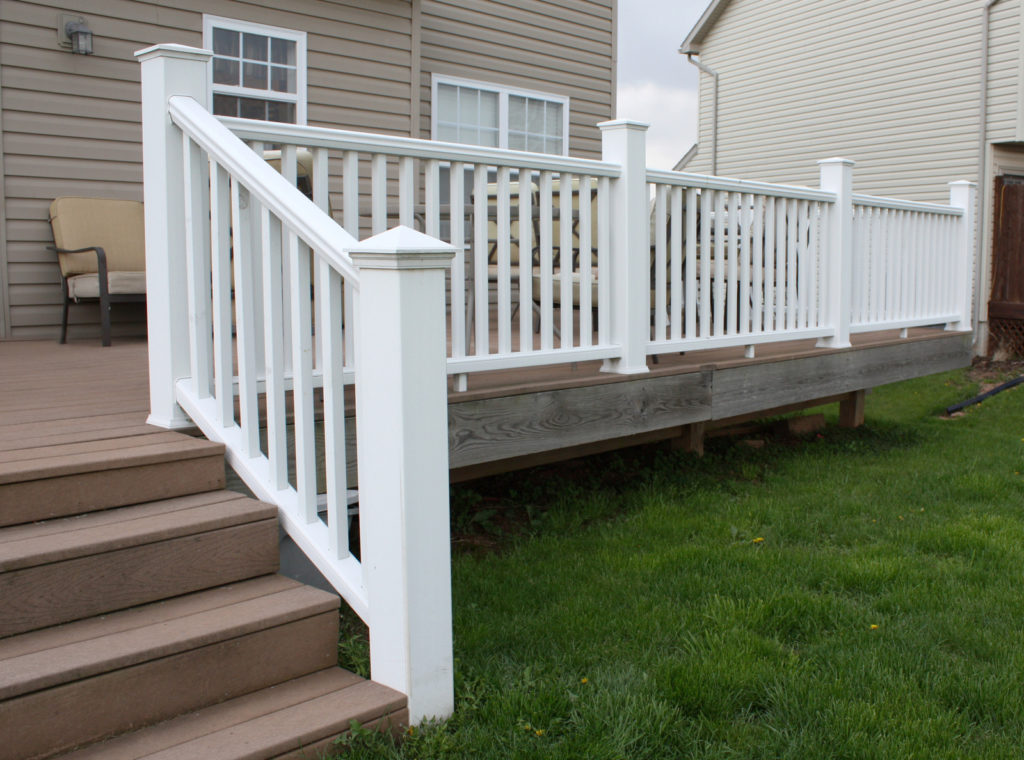 | | |
| --- | --- |
| Features | Vinyl Deck Railing |
| Easy Installation | ✓ |
| Low Maintenance | ✓ |
| Affordable | ✓ |
| Weather-resistant | X |
| Colour Selection | X |
Vinyl railings are made of Polyvinyl Chloride (PVC) which is a light and affordable material. Because it's smooth surface is easily cleaned, vinyl is considered fairly low maintenance. Fortunately, most vinyl railing systems are straight forward and simple to install. When considering your railing options, vinyl meets a lot of important criteria, but it may not be suited for all temperatures. Certain weather conditions can cause vinyl to expand and contract, which weakens it. If you live in an area with extreme temperature fluctuations, you may need to address cracks or breakage in your vinyl railings. Compared to other railing materials, vinyl is less strong. Additionally, painting vinyl railings aren't ideal, so you are limited to the colour choices provided by the manufacturer.
---
Aluminum Railings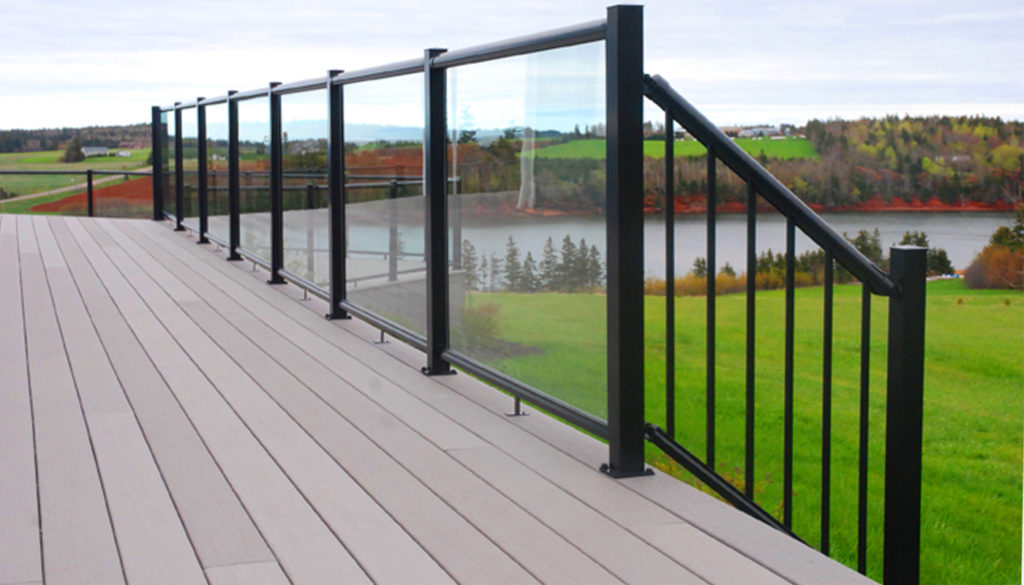 | | |
| --- | --- |
| Features | Aluminum Deck Railing |
| Strong & Durable | ✓ |
| Easy Installation | ✓ |
| Weather-resistant | ✓ |
| Low Maintenance | ✓ |
| Affordable | ✓ |
| Colour Selection | ✓ |
Aluminum is a light-weight, but durable material to use for your deck railings. When you are working with a lighter railing material, it eliminates heavy lifting. In fact, aluminum weighs one-third the amount of steel, which makes installation much easier (and less sweaty!). Lighter materials also allow producers to assemble more parts for you — such as our welded panels — which means less work for you.
Another benefit of aluminum railings is that they can be powder coated. Powder coating is an effective method that makes your railings weather-resistant to extreme temperatures. Whether snow, rain or sun, you don't need to worry about aluminum railings rusting or rotting. This makes aluminum railings an ideal choice if you are seeking a low maintenance railing material. You can also customize the colour of the powder coating to find the perfect shade for your backyard vision.
Lastly, we recommend aluminum railings because they are affordable and virtually maintenance free, especially compared to wood or metal railings like steel.
As suppliers of Aluminum railings, we believe in our products and their various benefits. Contact us if you want more information about our aluminum railings!
---
Once you've decided on your deck railing materials, then you can move on to design.
Practical design features like a privacy wall can improve the ambience of your deck by blocking wind and noise with frosted glass panels. Glass railings expand your views, especially if you select a solution like our Scenic Railings without top and bottom rails. Additionally, fascia mounting systems maximize your deck and outdoor space, and may increase the longevity of your deck. 
Before starting your building project, be sure to consult with your local building code requirements. 
Century Aluminum railing solutions are made in Canada, eco friendly, and available in a variety of color options. The best part? They're easy to install without professional help. Follow us on Instagram for building and installation tips!