With deck builds on the rise, Sprenger Midwest Inc., shares feedback from 2 projects using the Century Aluminum Railings systems with tempered glass panels & aluminum balusters. Each project is unique as you can see how the railings options meet the needs of each individual project perfectly.
The first project is a homeowner back porch build and the second is a commercial project.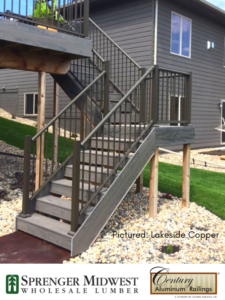 Homeowner Project
Style Used: Picket Railings
Color: Lakeside Copper
Location: Sioux Falls, SD
Matt used Century Aluminum Railings on his Ranch-style walkout single-family home located on the Southeast side of Sioux Falls.
For Matt and his wife, the #1 reason they chose Century Aluminum Railings was low maintenance.
Since South Dakota is known for harsh winters and hot, humid summers, they were looking for a railing that would hold up year after year without maintenance. That's why their contractor recommended the picket-style railings from Century Aluminum Railings.
The railing installation took a matter of hours with the contractor noting how easy the installation process was and helped them save time on the jobsite.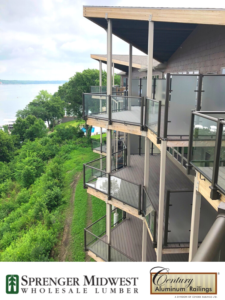 Commercial Project
Style Used: Glass Railings, 3" Custom 45-Degree Posts and Custom Tinted Glass
Color: Textured Black
Location: Bridges Bay Resort in Arnolds Park, IA
Located on one of the last large strips of available beachfront on the shore of East Lake Okoboji, Bridges Bay Resort saw the need for expansion in 2016.
This year-round resort features individually owned condominiums and hotel-style guest rooms for short-term or long-term rental with beautiful outdoor patios and decks finished with Century Aluminum Railings. 
"The views from the decks and patios are incredible," says Todd Kappenman, Senior Regional Accounts Manager at Sprenger Midwest. "The glass railings by Century Aluminum Railings were a perfect choice to use for unobstructed deck views all while meeting safety requirements."  
In addition to the glass railings, textured black, 3" custom 45-degree posts and custom tinted glass were installed.
Warranty Was a Deciding Factor When Choosing Railing for Projects
In both installation jobs mentioned above, the duration of the limited warranty played a factor in the decision-making process. The Century Aluminum Railings limited warranty includes the structure of the railings to be free from materials and manufacturing defects for a period of 20 years from the date of purchase. In addition, the Powdercoat Paint finish on the product is backed by a 5-year warranty from the date of purchase against cracking, chipping, blistering or loosening of the paint adhesion.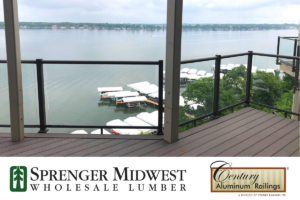 Conclusion
Please consider using Century Aluminum Railings on your next decking project! Sprenger Midwest is a proud supplier of Century Aluminum Railings to their retail locations throughout Minnesota, North Dakota, South Dakota, Nebraska, Iowa, Missouri and Kansas. For a list of Sprenger Midwest retailers, click here to find a retail location near you.
About Sprenger Midwest
Based in Sioux Falls, SD, Sprenger Midwest celebrates over 40 years in business supplying retail locations and the building materials that build dreams. For more information about Century Aluminum Railings from Sprenger Midwest, click here to visit the online products catalog.
For an installation demonstration, please watch this short video: YouTube
Contributor: Sprenger Midwest