Backyards are your opportunity to create a small oasis away from the rest of the world. A personalized getaway where you can relax, unwind and create new memories with your loved ones. Invest in your home with outdoor improvements!
Here is our list of top backyard DIY projects to get the most out of your yard.
1. Outdoor Kitchen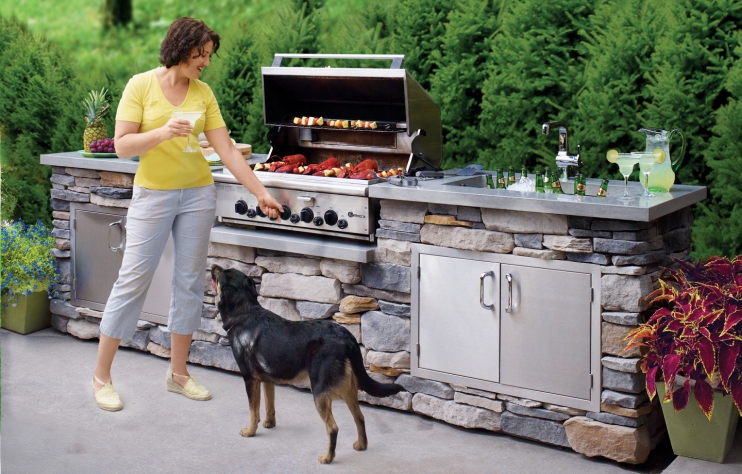 Any true outdoorsman loves to spend time outside grilling, but to perfect your BBQ routine you need to be fully equipped. Having your grill, sink, and utensils all within arms reach means you can focus on the cooking. This DIY outdoor kitchen simplifies the BBQ process, so you can stop dashing inside for your cooking essentials and spend more time soaking up the sun. Complete with an outdoor sink, counter space, and dish storage, you'll be fully equipped to become known as the grill master.
2. Deck & Railings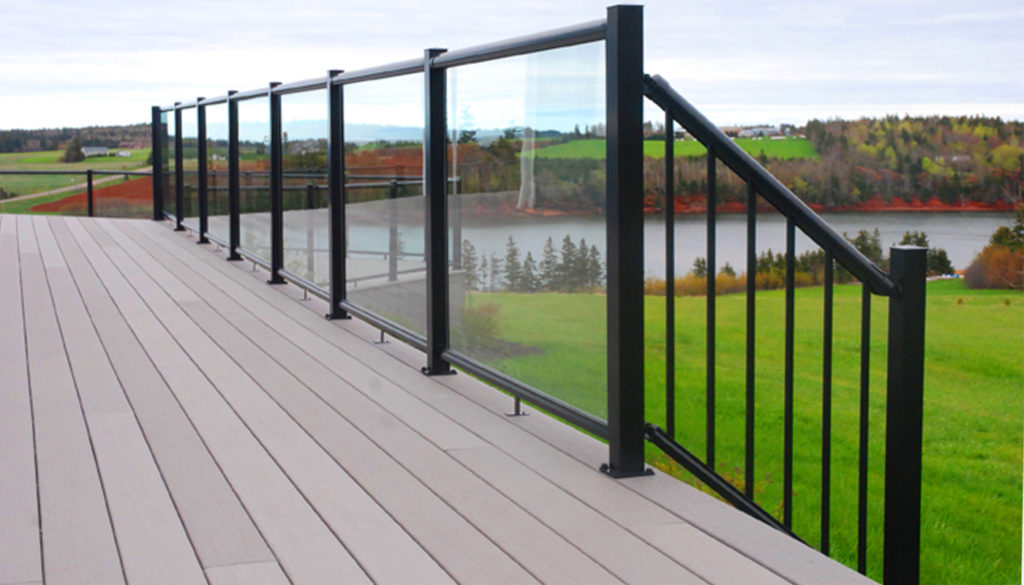 A well-designed deck is essential is creating a backyard that is inviting and comfortable place to pass the time. A freestanding deck can be built anywhere that best fits the layout of your yard. See these deck design plans to build your own freestanding deck that suits your backyard vision. Of course, you'll want to ensure the safety of your deck by adding railings. Our Century Aluminium Railings are easy and quick to install for any DIY project. You can choose between scenic, glass, or pickets railings to find the style that aligns with your vision. Additionally, adding pipe railings along the stairs provides extra stability and safety. Check out our website's DIY installation resources and installation videos, so you can spend more time enjoying your deck rather than finishing it.
3. Wooden Pergola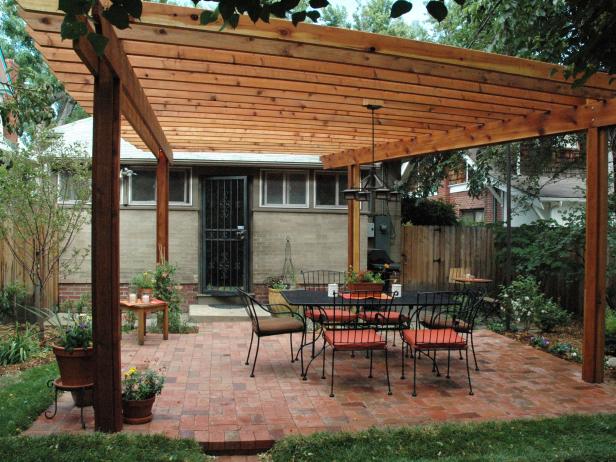 Larger backyard DIY projects can transform the entire look and feel of your outdoor space, like building a pergola. Pergolas are simple structures, but their architectural appeal has become a staple in modern landscape design. The bare-wood design is aesthetically pleasing and an ideal addition to frame any outdoor patio set. If you're seeking shade, then covering the pergola with vines will create for a cool, lush environment. To add an element of natural charm hang a bird feeder, outdoor decor, string lights, or flower planters from the wooden beams. See HGTV's step-by-step building instructions to create a beautiful wooden pergola for your next backyard DIY project.
4. Patio Sectional Couch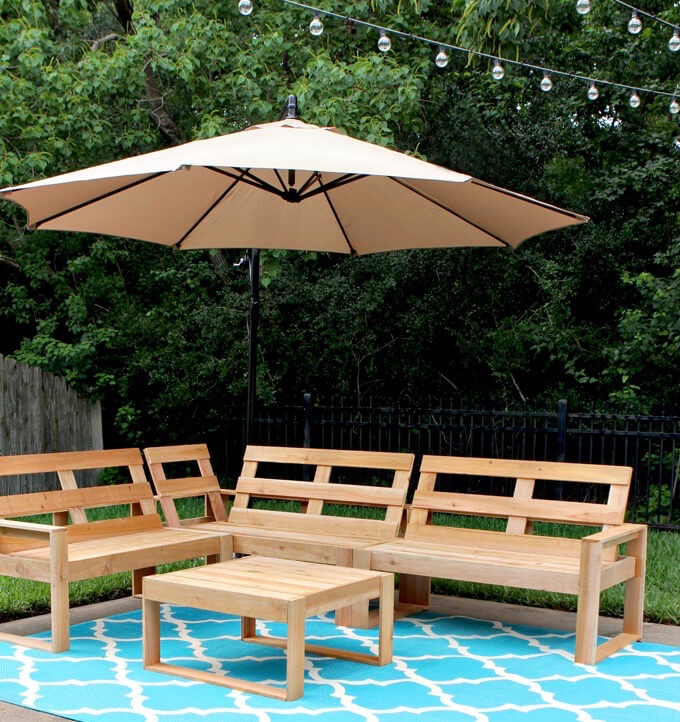 The key spending more time outside can be as simple as having snug outdoor seating to accommodate the whole family. Cozy outdoor furniture means you are more likely to stay outside rather than abandoning that hard patio chair for your plush indoor couch. Instead of breaking the bank, make your backyard DIY project building your own outdoor sectional. Check out this DIY guide from Gray House Studio to build a custom sectional, so there's plenty of space for everyone to get comfortable.
5. Raised Garden Planters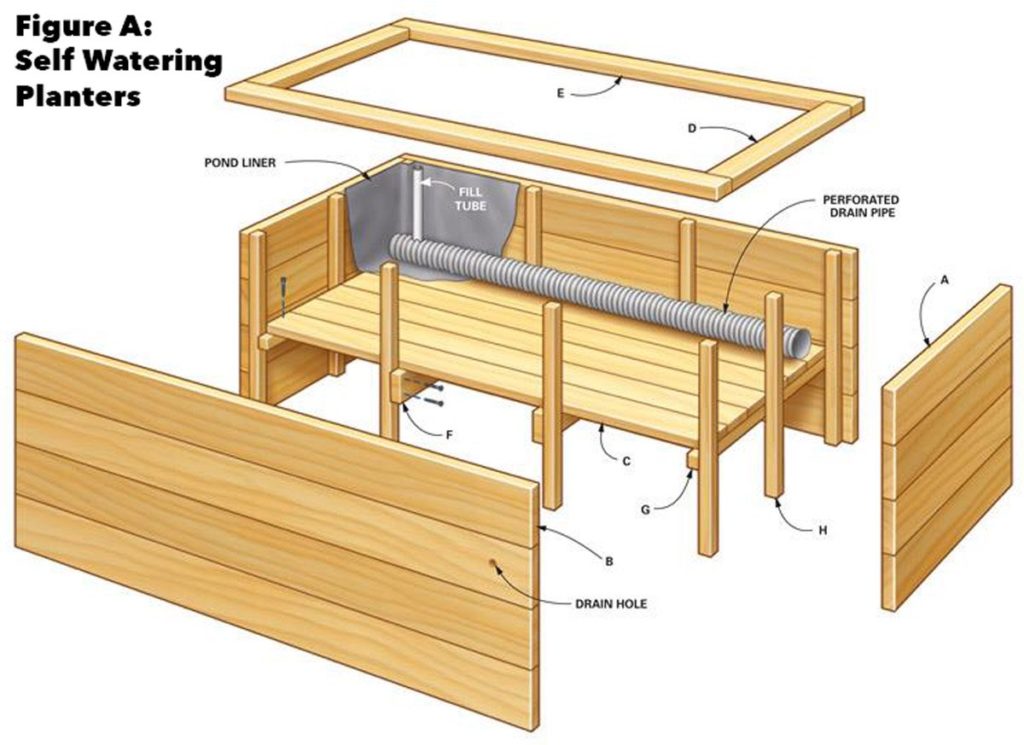 Why bother buying vegetables, when you can walk outside and pick them fresh? With the rise of eco-friendly natural foods, backyard gardens have spiked in popularity. Join the movement without the hassle by building a self-watering planter. Additionally, raised planters don't require you to bend and strain your back, so you can spend your time appreciating the best part about gardening — the harvesting. Impress dinner guests with fresh herbs, fruits, and vegetables from your patio with this Family Handyman garden planter tutorial.
6. Outdoor Movie Theatre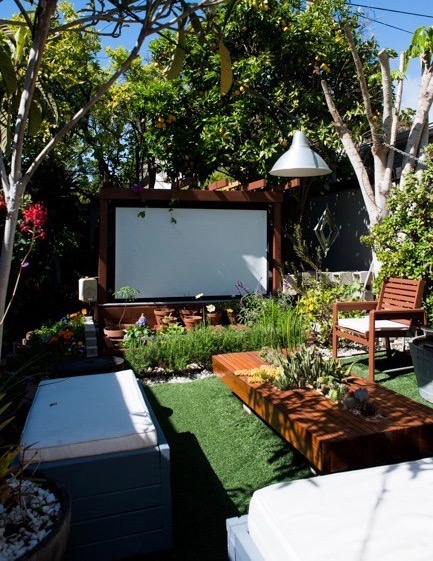 Movie night is a relaxing way to spend an evening, but it can feel like a waste to stay inside on those gorgeous summer nights. An outdoor theatre lets you enjoy the fresh air while watching your film on the big screen. If you want to build an outdoor movie theatre as your backyard DIY project, you don't need to settle for those ugly inflatable screens or hanging bed sheets. The Horticult has a comprehensive outdoor theatre guide to creating a movie screen that is functional and looks good. With the sunset as your backdrop, you'll create a movie night to remember.
7. Secret Garden Getaway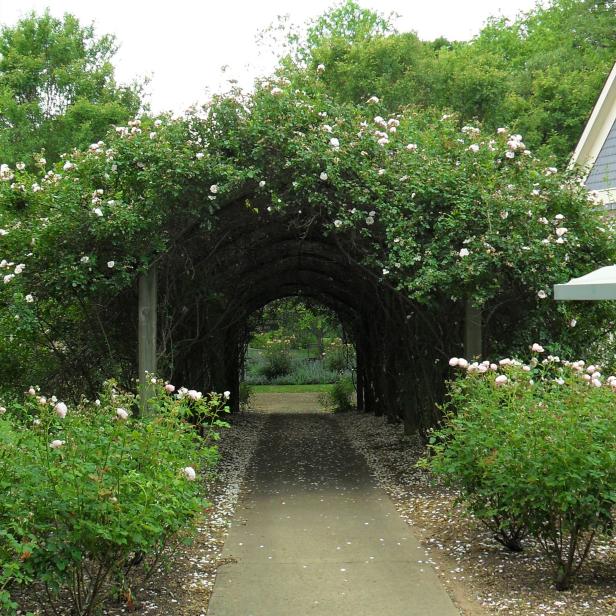 After a long day, you want a quiet calm place where you can decompress. Whether you choose to bring a book or catch up with someone special, a leafy private space can make all the difference. For your backyard DIY project, create your own private sanctuary with hedges and large lush plants. Consider adding an entryway to give you a sense of transformation as you enter the new space. You can also inspire relaxation with soft lighting and wind chimes. To create a natural, yet charming ambience, see these secret garden tips from HGTV to help create your garden getaway.
8. Unique Water Features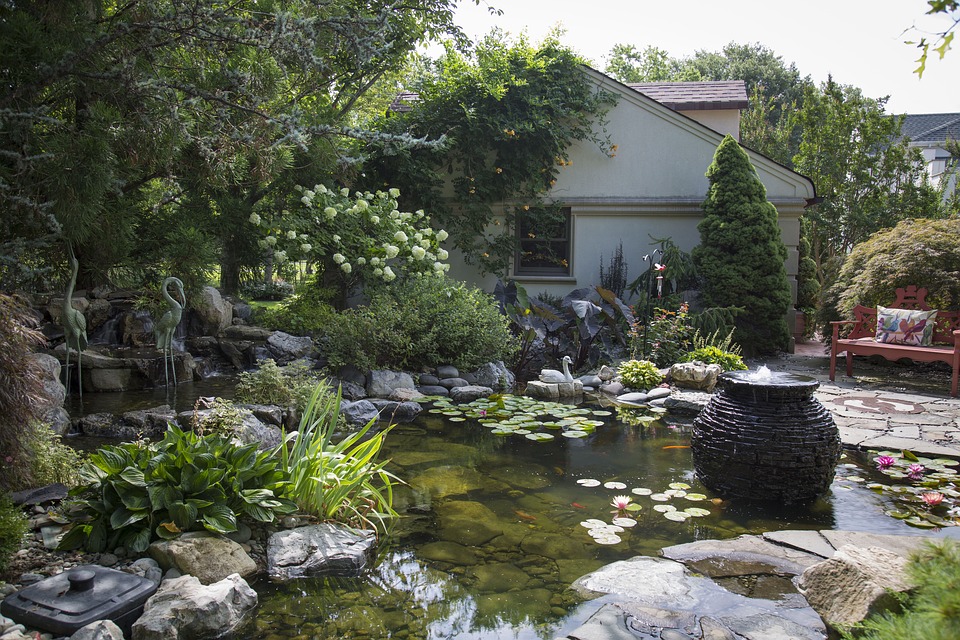 There is something inherently calming about the faint trickle of a fountain. For a backyard DIY that brings zen to your outdoor space, build a water feature. Instructables' DIY water fountain tutorial shows you how to create a water fountain out of anything. If you're seeking a larger project, consider designing a fish pond for your backyard. Here's a step-by-step fish pond guide to get you one step closer to building a new home for your fish. Whether you build a small or large water feature, any water addition will improve the ambience of your outdoor atmosphere.
9. Fire Pit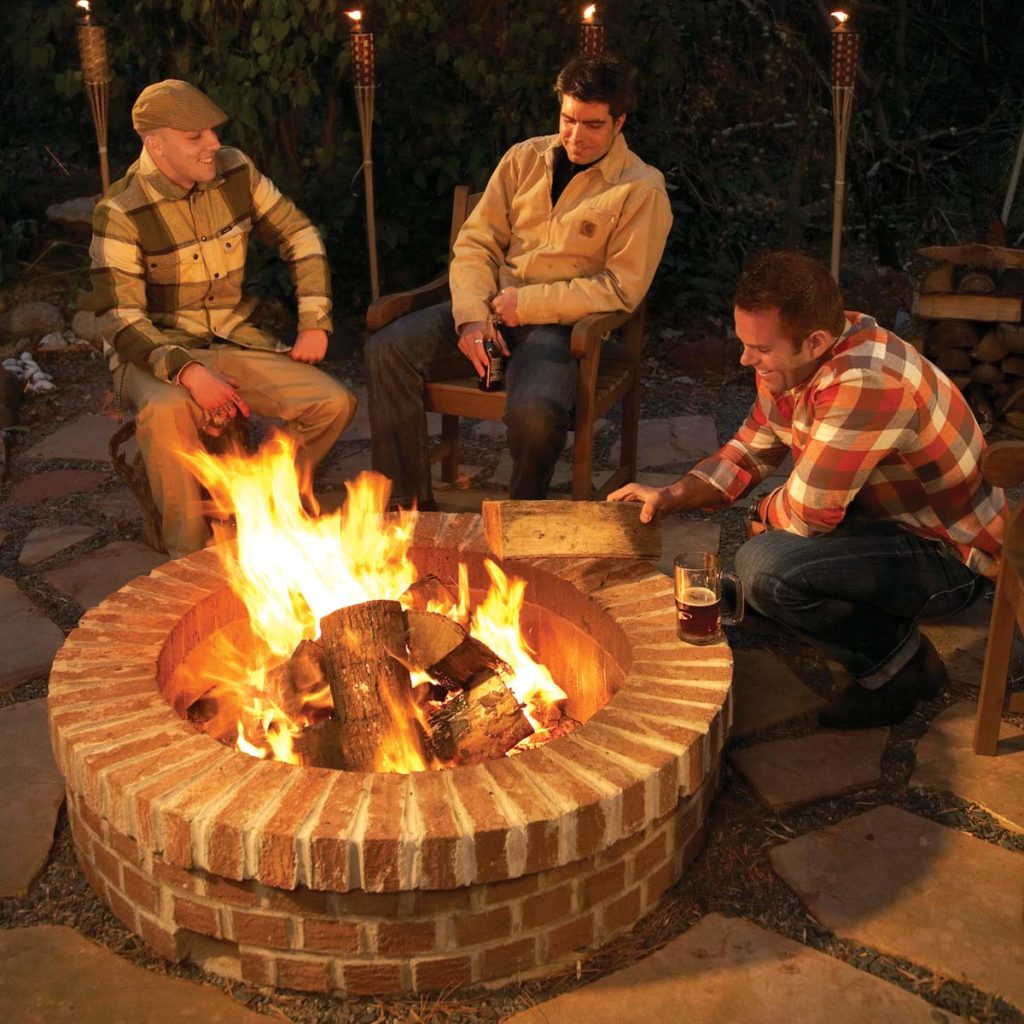 Feel the warmth of the fire and hear the crackle of flames after this backyard DIY project. A backyard fire pit allows you to stay warm on cool evenings and comfortably enjoy your yard well into the colder seasons. Whether you're looking to roast dinner over the fire or spend some quality time warming up, a backyard fire pit is multipurpose. The Family Handyman gives instructions to make any handyman build a fire pit like a master stonemason.
10. Kids Tree House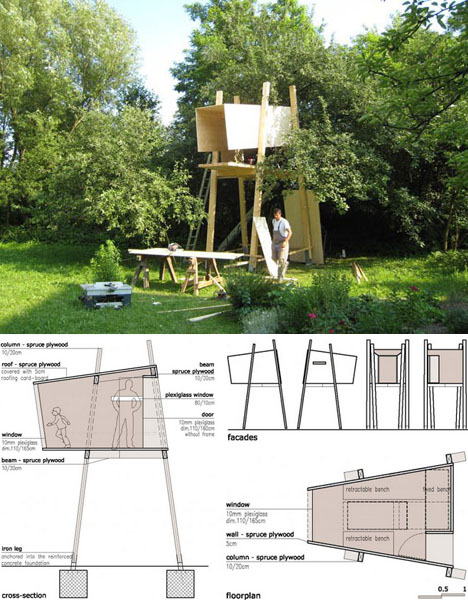 Keep the kids occupied with an outdoor tree house. DIY networks proved that tree houses don't need to be an eyesore with these tree house plans to build a modern play space for your kids. They'll have hours of endless entertainment in their new tree house.
At Century Aluminium Railings we are passionate about backyard DIY projects! Let us know which projects you're planning.
---
Century Aluminum Railings offers 4 different railings types:
Available throughout the U.S. Pacific Northwest, Midwest and coast to coast in Canada, try it for yourself and see how easy it is to make your project a reality. Our team of experts is here to help if you need it. We are always just a phone call away!